Exhibition History and Photographs
Ella K. Ewing, Missouri Giantess: 1872-1913
by Barbara Chasteen Campbell, Page 33
taken from the St. Louis Post Dispatch, June 1, 1897
But Frank Cook, the barker, drew the crowd into the tent with his "spiel" about the human freaks. He would cry to the ladies, gentlemen, and even the children to "step right up" and see...Great Peter, the Small, who weighs but six and one-half pounds, and whom a woman can pick up and hold outright in the palm of her hand. By Peter's side stands Miss Ella Ewing, the tallest woman in the world.
From the Memphis Reveille, August 21, 1902
Loss Buford of Rutledge writes friends from Montanta that Sunday, August 10, was the banner day for Miss Ella Ewing – the receipts from 2 p.m. until 11 p.m. amounted to $505.90.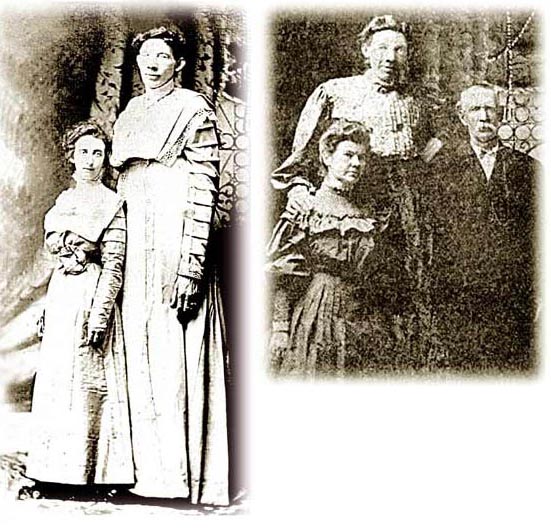 Left photo courtesy of Gorin Centennial Book – pg 47. Ella Ewing and cousin Teent (Tina) Blackwood on exhibition with Barnum and Bailey Circus in the year 1897.
Right photo courtesy of Ella K. Ewing, Missouri Giantess– pg 112. One of Ella's last exhibition photographs. Here she was posed with her father Ben and her traveling companion, Maude Wilson of Kahoka, ca. 1907.