House Construction
Ella K. Ewing, Missouri Giantess: 1872-1913
Barbara Chasteen Campbell
Chapter 6 – AT HOME: WINTER 1897
"Once Ella was home definite plans were made to purchase another acreage and thereon to construct a house designed for her comfort....
...To build the house Ella had in mind she contacted John Roger Beck, a highly regarded contractor, who had settled at Gorin when the town was founded. He agreed to build the house – in fact he was flattered that Miss Ella Ewing had asked him. Together they planned a two-story house that would have doors which Ella could enter without ducking her head, and windows high enough that she could look out and see the beautiful county landscape without stooping.
The house was erected under the direction of Beck with the aid of Ella's neighbors. It fronted on the west several feet distant from the road along the western edge of her acreage. It was an impressive frame, two-story, white residence with sash trim and shutters painted tan. There was a small front porch, the roof of which formed a balcony that could be entered from a door on the second floor. On the south was an entry way that permitted access to a piazza that extended the entire length of the house. The north door was the closest route to a pond, while the east door opened but a few feet from the two large cellars.
The front door, which was eight feet-eight inches high, opened into a rather large entrance hall containing a beautiful stairway. The only downstairs closet was in the stairwell. The hall opened onto four large rooms – living room, dining room, kitchen, and pantry. All of these rooms had ten-foot ceilings, eight foot-eight inch doorways, and seven foot-six inch windows. Thus, Ella could walk about comfortably. Only the first floor was constructed specially for Ella's comfort. The bedrooms on the second floor were of average size."
Items Unique to Miss Ewing's House and Property
• One custom rocking chair
• Two straight chairs made equal in size to her frame
• Regulation width bed but 9.5 feet long
• 15 foot long hammock
• One of the first telephones in the neighborhood
• Large, room-sized pantry
• Hanging kerosene lamps
• Large smokehouse
• Two cellars
• Lightning rods
• Oil burning – three burner kitchen stove with oven
• Custom piano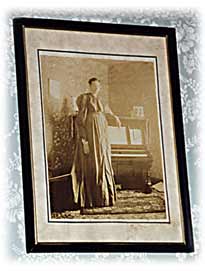 Her House
House Photo
House Destruction
Home / Overview / Newspaper Articles / Exhibition History and Photographs
Growth Rate-Measurements / Her House 3 4 / Museums / Books / Obituary / Personal Memories